The Atlanta Falcons have an interesting situation going on inside their Quarterback room; they have an experienced starter in Matt Ryan, they have a career backup in AJ McCarron, and they signed Undrafted Free Agent Feleipe Franks to be their 3rd string project Quarterback. It sounds like a normal situation, but neither McCarron or Franks have proven that they can be the number two quarterback behind the Falcons legendary number 2.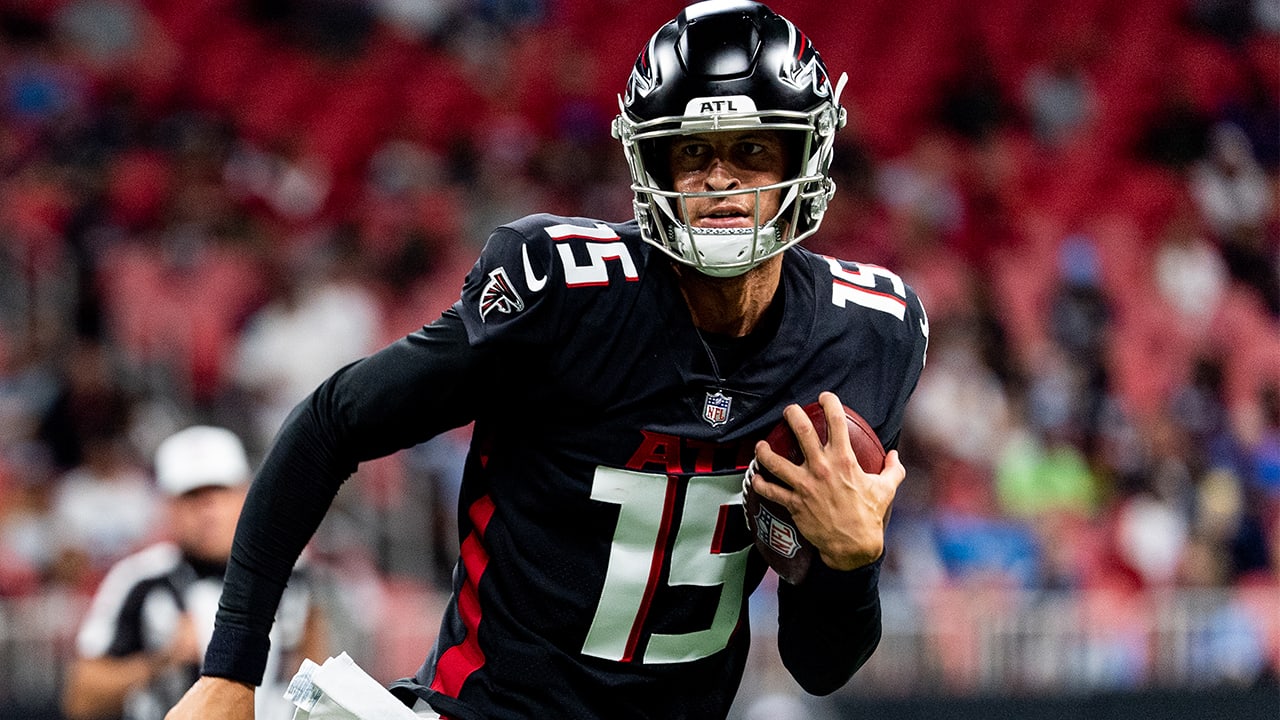 In today's NFL the backup quarterback is slowly becoming a somewhat premium position. You want a quarterback that could step in and fill in for you and your team in a pinch if anything were to happen to your franchise guy. Sometimes that backup role is filled by a former starter who might have just lost his ability, sometimes it is filled by a project quarterback who the team hopes will develop into something worthwhile, and other times it is filled by a career clipboard holder who knows the ins and outs of the offense and can run it at a serviceable level. Let's take a look at some guys the Falcons could target to solidify the question mark holding the clipboard.
Josh Rosen
Josh Rosen is a former first round pick who many touted as the safest QB selection in 2018 NFL Draft, myself included in that. Rosen was drafted by the Arizona Cardinals old regime who quickly moved on from him as they drafted Kyler Murray in 2019. Rosen then went to the Dolphins where we struggled to earn reps against Ryan Fitzpatrick.
Why am I talking about a bust being able to help solidify the Falcons QB room? Well when Rosen declared for the NFL Draft, he was talked about being one of the smartest QB's in the classes and was constantly compared to Falcons great Matt Ryan. Adding Rosen to the QB room in an offense that has similarities to his current one in San Francisco could make for a smooth transition into our QB competition while providing the opportunity to be mentored by Matt Ryan.
Then when you factor the Niners drafting Trey Lance while still having Jimmy Garoppolo on roster, it looks like Rosen is on the outside looking in once again. Rosen looks like a current long shot to make the Niners roster, which could be a nice bargain bin find for the Falcons.
Robert Griffin III
If the Falcons wanted to go the route of adding a more seasoned veteran to sit behind Ryan, they could very easily go the route of former Heisman winner Robert Griffin III. The former second over pick by Washington has had some injury concerns derail what looked to be a promising NFL career. RG3 got let go from Washington in 2015 and has floated around the league signing with the Browns and the Ravens.
RG3 falls into the category of guys who were former starters and lost the ability to be a starter. He has experience in multiple offenses and has some significant game experience the question with him, is how can his body hold up, and can he still play at a high enough level to warrant a roster spot.
If the Falcons felt that RG3 could be a serviceable backup for the team, he would be a decent scheme fit with the offense that Arthur Smith will be implementing.
Logan Woodside/Matt Barkley
I doubt Tennessee keeps both of these Quarterback's on roster. Woodside looked very good against the Falcons defense the other night going 10-15 for 84 yards and a touchdown. Woodside gives us a younger signal caller who could potentially develop into a career QB2 or for our team.
Matt Barkley is the flip side of this providing a career backup who could step in during a pinch. Barkley has had that role most of his NFL career in Philly and Buffalo and now Tennessee. For context Barkley went 5/8 for 54 yards with a touchdown against our Atlanta defense.
I will say that neither of these options is super appealing, but both should be looked at as options to beat out AJ McCarron for the job. Barkley will be similar to Chase Daniel/Colt McCoy in the sense of providing quality veteran depth who could also feature as a future mentor. While Woodside gives a more of a long-term solution to the backup QB issue.
Whichever Bills Quarterback Gets Cut
The Bills have Jake Fromm, Mitch Trubisky, and Davis Webb all competing for the number 2 and 3 slots behind Josh Allen. All three of these Quarterbacks have the potential to be cut with Trubisky being the least likely. Which leaves the roster bubble names as Davis Webb and Jake Fromm. UGA fans should be pretty familiar with Jake Fromm who was a starter for the Bulldogs for a few seasons.
He is a typical game manager who may not be head and shoulders over McCarron, but he is an upgrade. He is a limited athlete who uses his IQ and intangibles to lead the offense. He makes safe conservative passes to chip away at the defense. What makes Fromm appealing is that Arthur Smith's offense would be a play to Fromm's strengths as a passer and as a quarterback.
Davis Webb is very very similar to Jake Fromm, just more experience as a clipboard holder. Very similar as a passer, Webb is more accuracy and a limited athlete. So no matter which Buffalo cuts, if either, we would be adding a safe conservative passer who doesn't have any athletic ability to take over games. But both are fairly smart passers who are safe with the ball.
Kurt Benkert
Will this happen? Probably not. There is a strong chance that the Packers run with 3 quarterbacks so he might not even be available. But if Kurt Benkert were to become available the Falcons need to make the call. Benkert has become one of the league's favorite backups due to his Video Game streaming and his fun personality.
Kurt Benkert was a Falcon for the past couple of seasons competing for a roster spot. He is a more athletic passer than some of the other names on the list and would be a nice scheme fit for the Arthur Smith offense with his ability to be more mobile like what Smith had with Ryan Tannehill in Tennessee with his ability to escape and expand the pocket with his legs. Benkert also has a very solid arm to pair with his mobility.
What makes Benkert so appealing is that he is familiar with the Falcons organization with being here from 2019-2020. However that is also part of the reason it's so tricky to potentially bring back Benkert. It's an entirely different regime who decided he was expendable when they took over. Which is part of the issue in our backup Quarterback hunt. However if there was even a shot to bring Benkert back into Atlanta, the Falcons should jump on it.
Gardner Minshew II
This is my dream scenario out of this list. But it is also probably the least likely to happen. Minshew is currently "battling" for the number 1 job in Jacksonville. I use the term battling loosely due to Trevor Lawrence being drafted 1st overall in the most recent draft class.
In this hypothetical situation we will say Minshew loses the battle for the sake of the discussion, which is what will probably happen. But, Minshew is a 25 year old QB who has starting experience in both 2019 and 2020, compiling a stat line of: 5530 yards, 37 TD's, 11 INT's, completion percentage of 62.9% and a QBR of 93.1 through 20 career starts. Which is very solid for what he had to work with in Jacksonville during his time there.
Minshew is an accurate passer who has the confidence and swagger to lead the offense in a pinch or for a stretch of games. He has the gunslinger mentality to match his mullet which could add some personality to to the Falcons locker room. I personally would just love to see the personality switch from Ryan to Minshew if they ever rotate during games. But that's just more of a pipe dream than anything.
Minshew could potentially give the Falcons a way to move on from Matt Ryan at the end of his tenure while providing competent Quarterback to replace him with, without having to give up major capital. The biggest issue with Minshew is we aren't quite sure if Jacksonville will even want to sell on him because they may want him to help mentor Trevor Lawrence. And at that same time, if they wanted to sell we aren't sure what pick they would want. I'll play it safe and assume the Jags would want a day 2 pick for a 25 year old QB who could be a starter.
Which of these Quarterbacks do you think would be the best addition to Atlanta's locker room to backup Matty Ice? Did I forget a name you wanted? Do you have any criticism or comments? Well let us know @falcons_atb on Twitter!