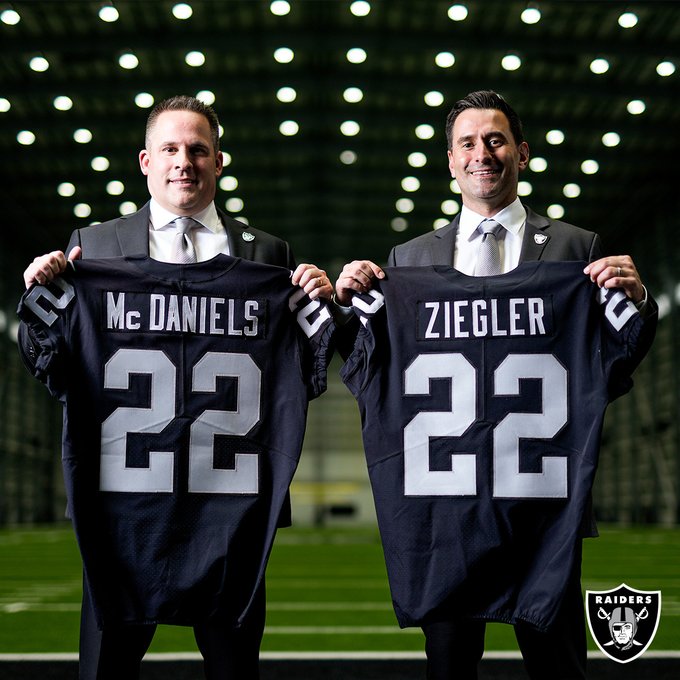 Josh McDaniels and David Ziegler have entered Las Vegas with authority
Earlier today, the Las Vegas Raiders put themselves back on the map by making the hirings of both Josh McDaniels and David Ziegler official. An introductory press conference had the duo flanking Raiders owner on Mark Davis on each shoulder, while Davis could not help but grin from ear to ear with the fruits of an exhausting coaching search.
In contrast, some in Raider Nation are hesitant about hiring two former New England Patriots for, arguably, two of football's most important positions in any organization. The fact is this, both have worked tirelessly to get where they are at today.
McDaniels and Ziegler come from humble roots
While many view these two as former New England Patriots, each is much more than that. Both are husbands and fathers and have children while also being from the esteemed John Carroll University, where many top NFL coaches and executives hail from; here are just a few of them:
Nick Caserio – Houston Texans GM, former New England Patriots Director of Player Personnel
David Caldwell – Philadelphia Eagles Personnel Executive/former Atlanta Falcons and Jacksonville Jaguars GM
Greg Roman – Baltimore Ravens Offensive Coordinator/former San Francisco 49ers Offensive Coordinator
Don Shula – Hall of Fame NFL head coach
Brandon Staley – Los Angeles Chargers head coach
Tom Telesco – former Los Angeles Chargers GM and Indianapolis Colts Director of Pro Scouting
As you can see above, there is something in the water at northeast Ohio University. However, a culture of relationships and winning ways brought the two former collegiate teammates in 1997 together in Sin City. With both being from tiny towns in Ohio, the two have prided themselves on working hard.
With that being said, the duo means business.
Josh McDaniels and David Ziegler are setting a new standard for the Raiders
While Rich Bisaccia was beloved by many players and fans, Mark Davis has gone in a different direction. That direction is each member of the organization earning their keep while learning their new leaderships expectations.
This brain trust of McDaniels and Ziegler will not hesitate to acquire players that fit their criteria. While some have questioned the hire of Josh, it is evident that he has raised his standards since his last head coaching stint.
After years of mediocrity and late-season collapses, a coach that holds himself accountable is exactly what the Silver and Black need. Expect things to change dramatically within the organization for the better.