The NFL offseason is here and NFL Draft season is in full swing. Mock drafts are being written, scouting reports are being put together, and podcasts are recording. With the NFL Combine now in the rearview mirror, we have a more data to work with. Free agency and Pro Days are coming, but it's time to take another swing at what the Draft might look like.
2022 Mock Draft 2.0
1. Jacksonville Jaguars: Evan Neal, Offensive Line – Alabama
Tackle Cam Robinson will be back after being given the franchise tag by the Jaguars, but the offensive line situation is by no means solved. Neal could easily become the best lineman on the team quickly and the long-term solution at left tackle.
2. Detroit Lions: Kayvon Thibideaux, Edge – Oregon
The Lions grab the highest graded player in the draft here. Questions about his effort are overblown, but his ceiling is sky-high and he makes an instant impact. This is just too early for any of the quarterbacks in this class.
3. Houston Texans: Jermaine Johnson, Edge – Florida St
Everybody is predicting a certain talented safety here, and that makes sense. Pass rushers are more valuable, though, and Johnson is the highest graded one available. He is long, fast, and plays with violence in his eyes.
4. New York Jets: Kyle Hamilton, Safety – Notre Dame
The Jets are another team that needs everything. Hamilton is one of the elite players in this draft, so despite the positional value argument, taking the best player on the board makes sense for them. He's an impact player from the start.
5. New York Giants: Aiden Hutchinson, Edge – Michigan
Getting more pressure on opposing quarterbacks has to be a priority for the Giants next year. They were near the bottom of the league in sacks, and Hutchinson falling a little bit makes this selection a no-brainer for them.
6. Carolina Panthers: Ikem Ekwonu, Offensive Line – North Carolina St
Quarterback is the biggest need in Carolina, but there's major risk in taking on this high. Instead, getting a top offensive line prospect to protect whoever is under center makes sense. Ekwonu is an athletic blocker who could go even higher than this.
7. New York Giants: Kenyon Green, Offensive Line – Texas A&M
Guards don't often find themselves being taken inside the top ten, but Green is an exception. He grades out as the top offensive lineman in the class here, as he's long, athletic, and impossible to move off his spot.
8. Atlanta Falcons: Ahmad Gardner, Cornerback – Cincinnati
The Falcons would probably love to trade back and get some extra picks here. They desperately need receiver help, but it's early for that. They could also use some secondary help and Gardner has all the traits a team could want.
9. Seattle Seahawks: Travon Walker, Edge – Georgia
It seems destined that quarterback Malik Willis is the pick here, but it's still a bit early. Walker, on the other hand, could be an absolute steal here and is rising up boards quickly after the NFL Combine, where he shined.
10. New York Jets: Charles Cross, Offensive Line – Mississippi St
There are question marks up front for the Jets going into 2022. There are more questions than answers, particularly at tackle. Cross hopefully solves some of those issues. He is as technically sound as any tackle in this class.
11. Washington Commanders: Treylon Burks, Wide Receiver – Arkansas
The two Super Bowl contestants from this year proved that having elite weapons matters. The Commanders have their quarterback, so they get another big-time option to go with Terry McLaurin on the outside.
12. Minnesota Vikings: Derek Stingley, Cornerback – LSU
There's some risk associated with picking Stingley here, but if he returns to the form of a few seasons ago, he's a steal. The Vikings are barren at cornerback, and this could be a homerun. One of the linebackers could be an option as well.
13. Cleveland Browns: Jordan Davis, Defensive Tackle – Georgia
Positional value says this is too high for Davis, but players like him don't come around that often. The Browns are thin on the interior of their defensive line and Davis is a monster and an athletic freak, even if he isn't a three-down player.
14. Baltimore Ravens: Devonte Wyatt, Defensive Line – Georgia
With the board falling the way it has, an offensive lineman is a bit of a reach. The Ravens need some bodies on the defensive line as well, and Wyatt is the best on the board. He plays with quickness and provides plenty of pass rush upside.
15. Philadelphia Eagles: Devin Lloyd, Linebacker – Utah
With three picks in the first round, the Eagles can address a lot of needs. First up, improving the defense, which needs help at all three levels. Here, they take the highest graded linebacker in the class, and Lloyd probably starts from day one.
16. Philadelphia Eagles: Trent McDuffie, Cornerback – Washington
It's back to the defensive side of the ball, and they pick the best available cornerback on the board this time. He has good length, while also possessing good instincts for the position. He's versatile enough to play inside or outside.
17. Los Angeles Chargers: Nakobe Dean, Linebacker – Georgia
With wide receiver Mike Williams re-signed, the focus is on the defense. They have a major need at defensive tackle, but the board didn't fall in their favor. Adding a rangy linebacker to fly around the field helps out as well.
18. New Orleans Saints: Malik Willis, Quarterback – Liberty
The Saints have to get out of cap trouble this season, and then ideally begin to compete again in 2023. Drafting the best quarterback in the class is the start of that. Willis may need some time, but has the tools to be a star.
19. Philadelphia Eagles: George Karlaftis, Edge – Purdue
Once again, the Eagles address the defense. Karlaftis plays hard and knows how to get to the quarterback. He may not be as physically gifted as other pass rushers in this draft, but he makes up for it with technique and motor.
20. Pittsburgh Steelers: Sam Howell, Quarterback – North Carolina
The retirement of Ben Roethlisberger leaves the Steelers with a gigantic hole on offense. A trade for a veteran might be a better option, but as of now, they draft an exciting player who has some flaws in his game, but has a high ceiling.
21. New England Patriots: Andrew Booth Jr, Cornerback – Clemson
This is as simple as drafting a guy to replace a guy they lost. JC Jackson appears to be headed to another team this offseason, leaving the Patriots short at cornerback. Booth is another of the great corner prospects in this draft.
22. Las Vegas Raiders: Jameson Williams, Wide Receiver – Alabama
With Russell Wilson headed to Denver, and the rise of Justin Herbert, the AFC West is becoming a division defined by offense. Derek Carr needs more weapons and Williams, once fully recovered from injury, might be the best of this class.
23. Arizona Cardinals: David Ojabo, Edge – Michigan
This is a steal at this point. The Cardinals can certainly use another pass rusher, but Ojabo is worthy of a top 15 pick. In this case, he slipped down a bit, and Arizona will take it. The former Wolverine is explosive and has some nice pass rush moves.
24. Dallas Cowboys: Zion Johnson, Offensive Line – Boston College
The Cowboys offensive line has been an area of strength for a long time. However, age, injuries, and defections are taking a toll. Johnson may go even higher than this, as his stock is rising. He likely would start at left guard right away.
25. Buffalo Bills: Garrett Wilson, Wide Receiver – Ohio St
Having one of the league's best young quarterbacks means the Bills are contenders every year. Keeping his weapons stocked will be important though. Wilson might be the best player on the board here, and gives Allen another big-time target.
26. Tennessee Titans: Chris Olave, Wide Receiver – Ohio St
The Titans certainly need to address the offensive line, but the need for receiver help is underrated. AJ Brown is fantastic, but Julio Jones is on the downside of his career. Olave is a fantastic route runner and has some much needed speed for the Titans too.
27. Tampa Bay Buccaneers: Tyler Linderbaum, Center – Iowa
The offensive line in Tampa has taken a hit this offseason. They need help along the interior and with Ryan Jenson entering free agency. Linderbaum has size and length concerns, but is technically sound and has plenty of power.
28. Green Bay Packers: Drake London, Wide Receiver – USC
The Packers have famously failed to use top picks on weapons for Aaron Rodgers over the years. Need meets value here and they finally get him some help. London has great size and hands, and he will be a nice "money down" target.
29. Miami Dolphins: Trevor Penning, Offensive Line – Northern Iowa
Penning made himself some money at the NFL Combine and he could wind up going much higher than this. Miami has to protect the quarterback better going forward if they want to be contenders in an increasingly difficult AFC.
30. Kansas City Chiefs: Daxton Hill, Safety – Michigan
The Chiefs secondary was a liability in 2021, particularly in their late season and playoff losses to the Bengals. Hill is a rangy safety with ball skills. The other option here would be a cornerback, but Hill is the highest graded available defensive back on the board.
31. Cincinnati Bengals: Sean Rhyan, Offensive Lineman – UCLA
The offensive line cost the Bengals a Super Bowl ring. They'll use free agency too, but getting a potentially dominant player in the draft too is advisable. Rhyan would benefit from a move to guard, where his strength and use of leverage would allow him to thrive.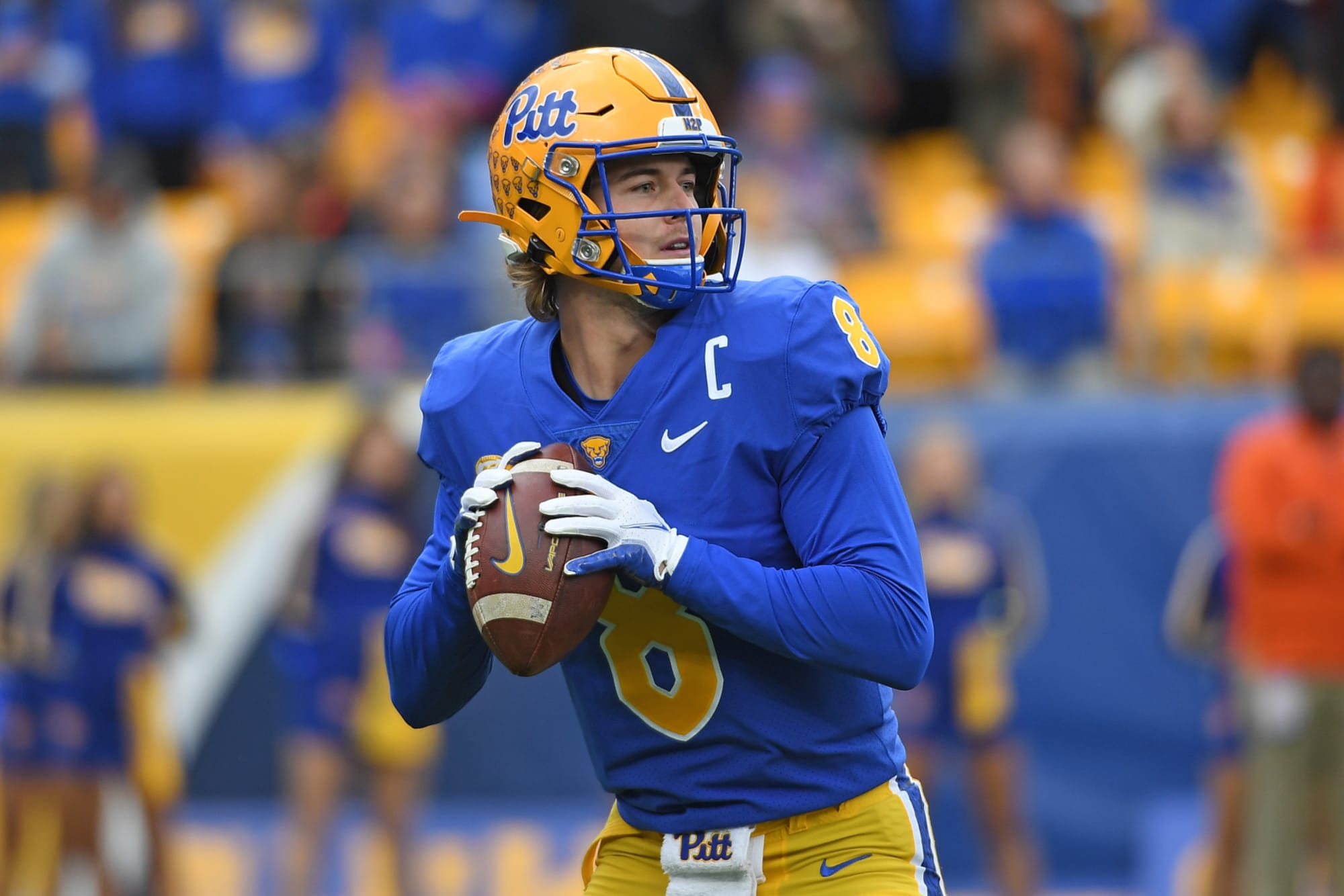 32. Detroit Lions: Kenny Pickett, Quarterback – Pitt
Simply put, it's time for a new era at quarterback in Detroit. Pickett could be a top 15 selection, but small hand measurements hurt him. He has an intelligence for the position, and has an NFL-quality arm to show off for his new team.