The Cleveland Browns came into Day 2 with three selections on the day. They made a trade while still selecting three players and adding two additional Day 3 assets. Cleveland came in without a lot of major holes to fill, and selected players to fill two of their top three needs.
To see how this compares to our various mock draft scenarios, read our Browns Mock Draft 3.0. For information regarding some other players the Browns may have considered, as well as one they selected, see our Browns Day Two Fits. With that being said, let's get into the 2022 Browns day two recap.
Trade
The Cleveland Browns traded pick 44 to the Houston Texans for picks 68, 108, and 124. The Jimmy Johnson trade chart is the most commonly used trade chart. The Rich Hill trade value chart is fairly similar and also commonly used. The Fitzgerald-Spielberger trade chart is much more similar to how an analytically inclined team such as the Browns would use it.
The differential is quite obvious, with the Texans winning the equivalent of the 105th pick in the Jimmy Johnson chart and the Browns winning the equivalent of the 56th overall selection according to the Fitzgerald-Spielberger trade chart. While the trade moved the Browns past a lot of top targets, they did pick up a lot of additional value.
Trade Grade: B-
Pick 68: Martin Emerson, DB, Mississippi State
The Cleveland Browns selected Martin Emerson from Mississippi State at 68 overall. With that selection, the Browns passed on an extremely talented defensive tackle in Travis Jones, whom the Ravens selected at pick 75. The Browns also traded out of range to select great talents like Drake Jackson, David Ojabo, George Pickens, John Metchie III, and Skyy Moore at positions of need.
However, Emerson himself is a very talented player. He was the eighth-best cornerback on my personal board. Emerson may also provide safety versatility, which is important for the Browns. He is an average athlete speed-wise, but possesses great size and length for the position as well as good lateral mobility. Emerson struggles in man-to-man coverage. His best traits are his zone instincts, which is why he may be a solid safety.
Pick Grade: B+
Pick 78: Alex Wright, EDGE, UAB
Cleveland needed an edge rusher badly, even if they end up re-signing Jadeveon Clowney, which seems likely. Alex Wright is a high-upside edge rusher who can come in and be a quality third edge. While Wright lacks tape against high-level competition, he was extremely productive and showed good traits on film.
Analytical teams are sure to love Wright, and it's understandable why they made the selection. While it was a bit of a reach for me relative to where I thought he would go (had him pegged for the 99th selection), the value itself is not bad. Other players in consideration at edge rusher at this pick were Cameron Thomas and Kingsley Enagbare, both of which are in the same tier as Wright. Wright definitely has more upside than those two, which is most likely why the Browns selected him.
Pick Grade: B
Pick 99: David Bell, WR, Purdue
David Bell is an extremely productive receiver who has been a good player since he entered college for Purdue. Bell is physical and technically refined. However, he's a below-average athlete at a position filled with freak athletes. The fans are sure to be excited for his arrival, as Ohio State receiver's coach Brian Hartline tweeted his support of going up to get him prior to the Browns' selection of Bell.
He is going to come in and be an immediate contributor to their wide receiver room. While he was not my personal top receiver on the board (that honor is still held by Kyle Philips) he is in a similar range.
From an analytics perspective, David Bell is an absolute steal at this slot. Bell's run-blocking grade from PFF has improved every season. Bell's comparisons from an analytical perspective are very favorable. PFF's Kevin Cole wrote a comparison piece on Bell that compared him favorably to top NFL wide receivers like Keenan Allen and Jarvis Landry.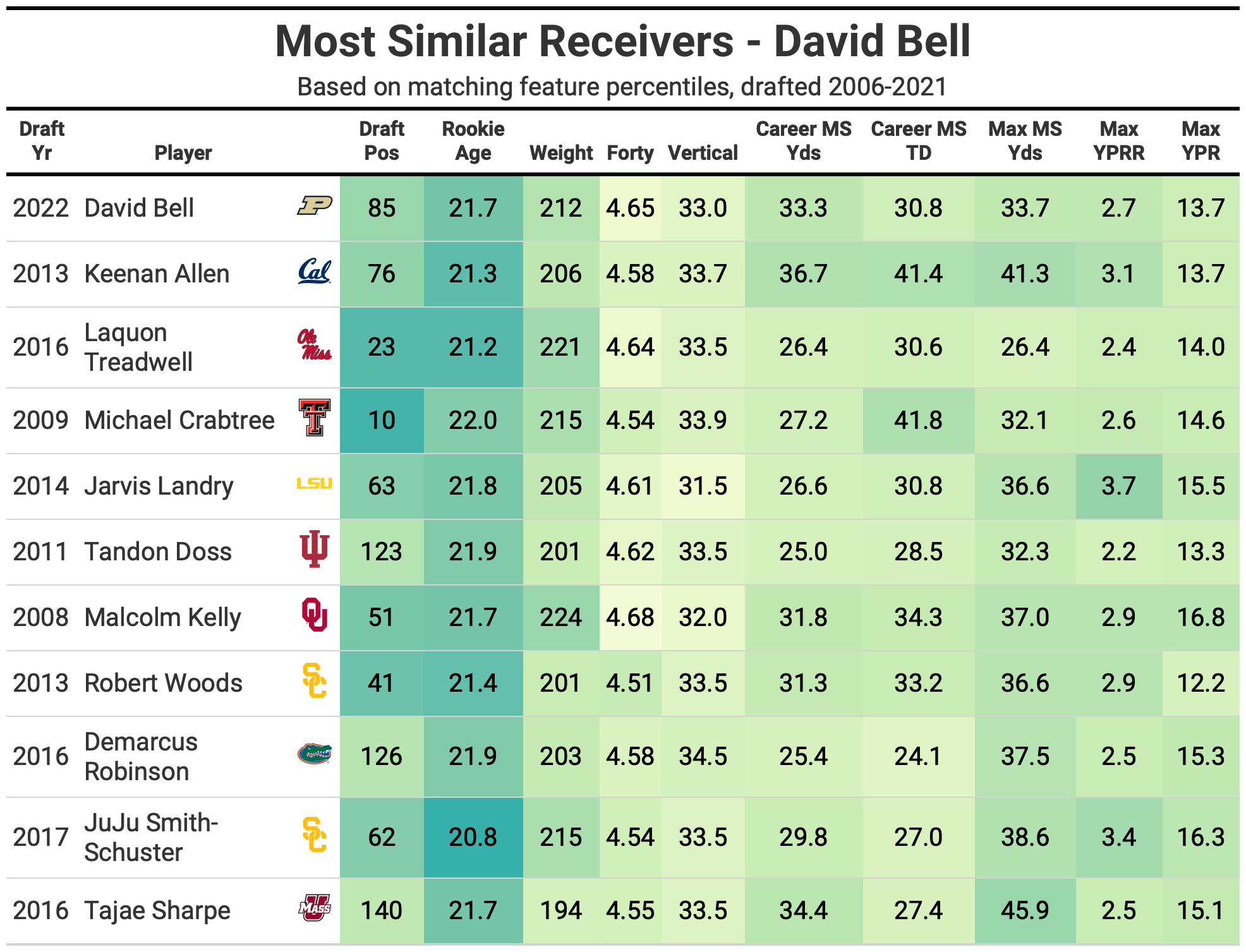 Pick Grade: B-
Browns Day Two Recap
The Browns made three selections all of which were favorable values. They passed on a lot of very good players, but the picks were still solid. The Browns filled a majority of their needs, now only really needing an additional defensive tackle as well as depth pieces. Overall, it was a good but not great draft day for the Browns.
Browns Day Two Grade: B