The NFL Draft for the Browns starts on day two, where they will finally select at 74 (barring any trades). Cleveland has many positions to fill and will need a great draft to be championship contenders. We took a look at how the draft might play out for them on the five major mock draft simulators. For more coverage like the 2023 Browns Mock Draft, check out atbnetwork.com/nfl-draft/.
74: Darnell Washington, TE, Georgia
Darnell Washington is a freak of nature playing tight end. Washington stands at a massive 6065 and 264lbs, and has immense upside both as a receiver and as a blocker. His production is low, but some of that is because he played with the best tight end in college football the past two years in Brock Bowers. Washington will immediately be asked to play in certain personnel groups and will eventually replace Harrison Bryant after his contract expires.
98: Zach Harrison, Edge, Ohio State
Zach Harrison never really put it all together at Ohio State, but he still has the physical tools that you can draft late on day two or on day three to try to develop. He is 6054, 274 lbs with 36 1/4″ arms. He jumped out of the stadium for someone 274 lbs, but struggled in the short shuttle and was just average in the 3-cone drill. Harrison fits a lot of what the Browns are looking for in the position and will help to provide depth there.
111: Henry To'oTo'o, LB, Alabama
Henry To'oTo'o will step in and help provide depth immediately to a depleted Browns linebacker corps. He's an experienced player with multiple years starting, but still fits the Browns general age thresholds.
126: Jartavius Martin, S, Illinois
Jartavius Quan Martin is a versatile safety from Illinois. Martin can play a variety of spots. He played a majority of his snaps in his career in the slot, but also can play as a free safety, especially in two high coverages. Martin provides versatility to a weak Browns' safety room.
140: Michael Wilson, WR, Stanford
Michael Wilson has limited production due to numerous injuries over his career at Stanford. Over his last three seasons he has played a combined 15 games. However, his tools make him a worthwhile day three selection.
142: Tyjae Spears, RB, Tulane
Tyjae Spears is a bit smaller than the running backs the Browns have rostered currently, but his ability and value at this position have made him a must draft. The Browns have to start preparing for a future without Nick Chubb, and Spears has starting capabilities.
190: Nick Saldiveri, OT, Old Dominion
Saldiveri is a developmental tackle and has been consistently one of the top day three options across multiple mock drafts.
230: Broderic Martin, iDL, Western Kentucky
Broderic Martin is a big-bodied defensive tackle who the Browns could bring in to provide competition, and hopefully earn a spot on the team. He provides much needed size and run-stopping ability for the Browns.
2023 Browns Mock Draft: PFF
Overall Draft Grade: A-
74: Tucker Kraft, TE, South Dakota St
Tucker Kraft was the last of the group of starting-caliber tight ends (depending on your Luke Schoonmaker opinions), and being able to grab him at 74 would be a massive addition. Kraft is an immensely productive player at the FCS level, and will have time to develop before being asked to be the TE2 in 2024.
PFF Grade: B-
98: Nick Herbig, Edge, Wisconsin
Nick Herbig isn't a great fit, as he is a bit of a tweener who doesn't fit the Browns scheme all that well. However, he's just a good football player that you can't normally find at pick 98.
PFF Grade: A
Trade: Browns trade 111 and 190 for 100 and 231
PFF Grade: C+
100: Marvin Mims, WR, Oklahoma
Marvin Mims is the last remaining wide receiver from his tier, and dropped due to an abundance of slot-type receivers. He can be an impactful WR4 as a rookie for the Browns.
PFF Grade: A-
126: Nick Saldiveri, OT, Old Dominion
PFF Grade: A-
140: Keondre Coburn, iDL, Texas
Keondre Coburn is not a complete player, but he showed a lot of promise and has the size to be an NFL nose tackle.
PFF Grade: B+
Trade: Browns trade 142 and 231 for 160 and 185
PFF Grade: C+
160: Marte Mapu, LB/S, Sacramento St
Marte Mapu does not fit in the typical age range the Browns look for, but the value was too good to pass up. He is a position change candidate, having played safety in the past, but could move to linebacker for many teams. Mapu did play linebacker at the NFLPA Collegiate Bowl and the Senior Bowl.
PFF Grade: A+
185: Keaton Mitchell, RB, East Carolina
PFF Grade: A
229: Chamarri Conner, S, Virginia Tech
PFF Grade: A
Trades (Multiple): Browns trade 74, 190 and 229 for 100, 141, and Dallas's 2024 3rd
98: Tyler Scott, WR, Cincinnati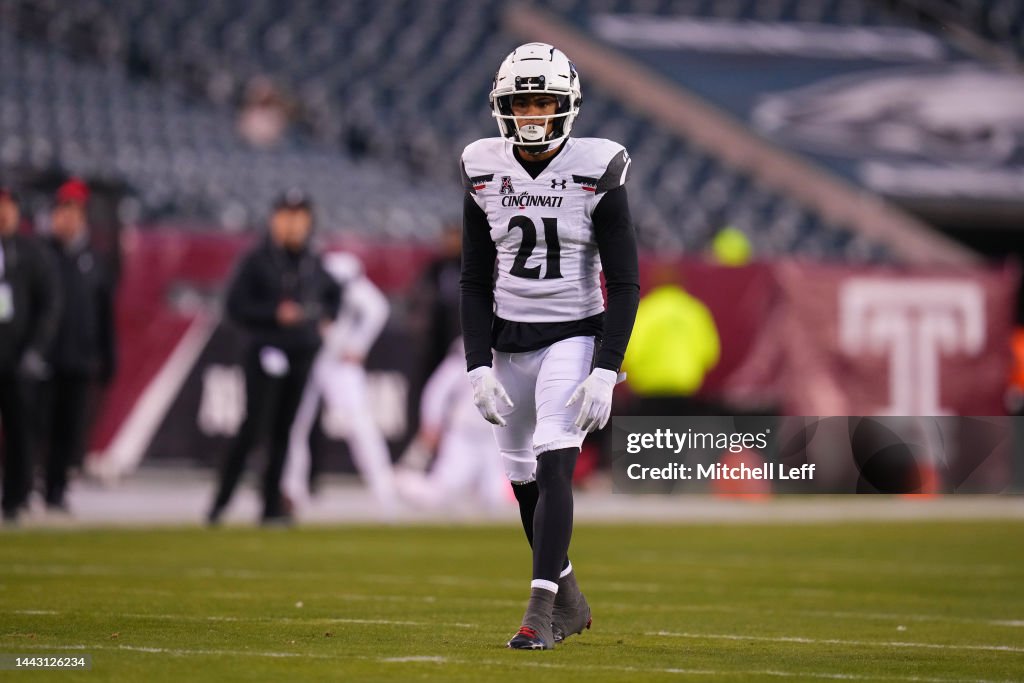 Tyler Scott is a speedy wide receiver out of Cincinnati who can provide the Browns with the vertical spacing that they had hoped to get out of Anthony Schwartz.
100: Moro Ojomo, iDL, Texas
A smaller defensive tackle, Ojomo can still be a productive player. He has length that he uses to his advantage.
111: Owen Pappoe, LB, Auburn
Owen Pappoe is an athletic linebacker who can be a developmental piece for a Browns team that needs difference-makers at the position.
126: Luke Schoonmaker, TE, Michigan
Luke Schoonmaker is a quality tight end who will eventually make a quality TE2. He was not insanely productive before this season, but was in a talented room. Schoonmaker falls outside the typical age markers the Browns have, but they need to bring in a tight end to be TE3 and to eventually take the TE2 role from Harrison Bryant.
140: Jay Ward, S, LSU
Jay Ward is a versatile safety who has played all over the field for LSU. He can play as a nickel or as a deep safety. He has experience in the box, but is not ideally suited for the role.
141: KJ Henry, Edge, Clemson
KJ Henry is an athletic edge defender for the Clemson Tigers who had his best season this past year. Henry falls outside the age restrictions, but at this point in the draft, the Browns may overlook that for Henry's value.
142: Roschon Johnson, RB, Texas
Roschon Johnson has low tread on the tires, having been Bijan Robinson's backup. Johnson can compete to be RB2 this season and can be looked at as a potential successor if he works out.
74: Gervon Dexter, iDL, Florida
Gervon Dexter did not have the most production at Florida, but there were many contributing factors. Dexter played many more snaps than he should have, due to their lack of depth. He also has been very slow off the ball. If the Browns can help correct these mistakes, he can be a quality defensive tackle.
Trade: Browns trade 98 to Chicago for 103 and 136
103: Jordan Battle, S, Alabama
Jordan Battle can come in an compete for a starting safety spot for the Browns. Although it would be unlikely, Battle has some upside, and would have been considered an early second round selection last year had he come out.
111: Zach Harrison, Edge, Ohio State
Trades (Multiple): Browns trade 126 for 129, Jaguars 2024 5th and two 6ths, and Cowboys 2024 5th
129: Dorian Williams, LB, Tulane
Dorian Williams is an athletic coverage linebacker from Tulane. Adding another piece will hopefully give the Browns a chance to solve the ongoing issues at the position.
Trade: Browns trade 140 for 141 and Las Vegas's 2024 6th
141: Davis Allen, TE, Clemson
Davis Allen is an experienced tight end who tested well. Allen lacks the typical production you look for, but shows traits worth developing.
142: Nick Saldiveri, OT, Old Dominion
190: Charlie Jones, WR, Purdue
Charlie Jones doesn't necessarily fit all the requirements the Browns usually look for, especially age. He's 24 years already, but can be a useful player for the Browns in the slot
229: Nick Broeker, iOL, Ole Miss
Nick Broeker is simply a selection trying to add to the Browns offensive line depth. He has good athletic testing and should be able to compete for a roster spot.
2023 Browns Mock Draft: ESPN
74: Keeanu Benton, iDL, Wisconsin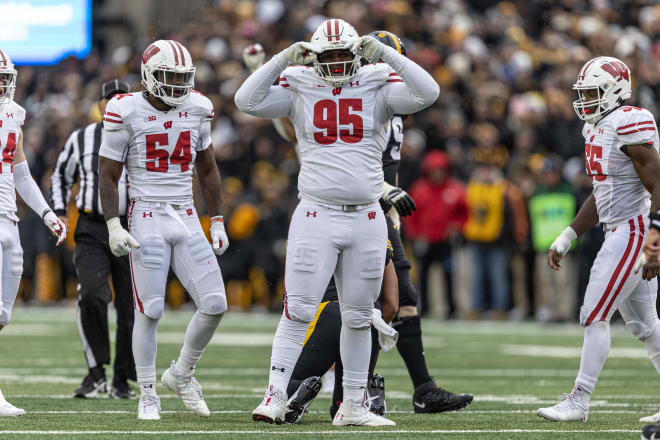 Keeanu Benton is just an absolute monster on the interior. He would be amazing value at this selection, and could even be a trade up candidate if the Browns don't value the rest of the interior defensive line class. Benton is athletically gifted and has produced well, finishing with six sacks this past season.
98: JiAyir Brown, S, Penn State
JiAyir Brown is not necessarily a Browns pick due to his age and only above average athleticism, but he can be a productive box safety for the Browns and adds a unique body to a depleted room. Pairing him with Battle helps upgrade the room significantly.
111: Isaiah McGuire, Edge, Missouri
Isaiah McGuire checks a lot of boxes for the Browns. He is a very athletic player who has a decent history of production and is still just 21 years old.
126: Jordan Battle, S, Alabama
Trade: Browns trade picks 140 and 190 to Giants for Pick 128
128: Zack Kuntz, TE, Old Dominion
Zack Kuntz does not fit the typical age threshold, but he is an athletic freak who the Browns may consider. He was a late bloomer, breaking out after his transfer to Old Dominion, but he was the best value tight end available, and the Browns need a TE3 who can eventually be a TE2.
142: Ricky Stromberg, iOL, Arkansas
Ricky Stromberg is a solid center prospect if the Browns are looking to move off of Nick Harris. He has starter upside and is extremely athletic. Stromberg is personally my favorite day three center prospect.
229: Deuce Vaughn, RB, Kansas State
Deuce Vaughn is an extremely fun running back prospect to take a flyer on. He tested as an above-average athlete but is extremely small. Vaughn has exciting film, but the size is a major concern. A flyer selection at 229 is definitely worth it.