Day two of the NFL draft is in the books, and we look forward to the top prospects left for day three. I surveyed some of our own NFL draft experts, along with experts from some popular draft outlets to get a sense of some of the favorites still left on the board.
JP Acosta – SB Nation: AT Perry, WR, Wake Forest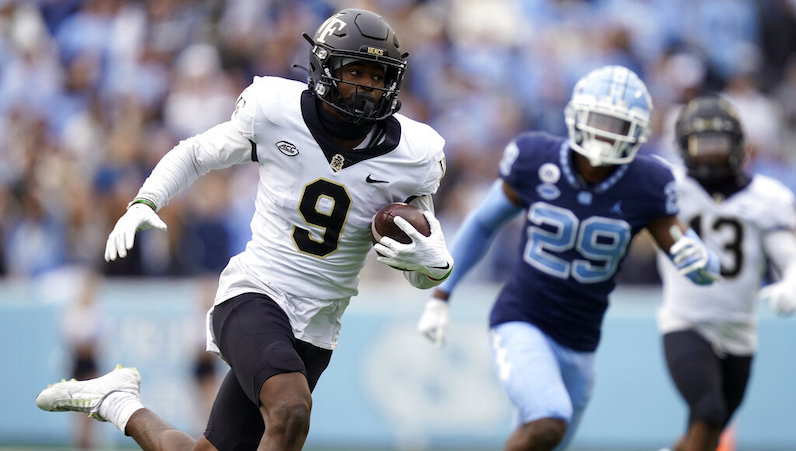 "Perry is a senior coming from a gimmicky Wake First offense, but he provides a nice blend of speed and size. He can stretch the field as an outside receiver and has a bit more finesse to his route running than other receivers. He's limited in the amount of routes he ran, but for a team who wants speed on the outside, AT Perry is a solid pick on Day 3."
Zack Dietz – Giants Country: Darius Rush, CB, South Carolina
"One of my favorite remaining prospects is South Carolina CB, Darius Rush. Blessed with great size, length, and athleticism, the former Gamecock is an experienced defensive back who would be an ideal in press-heavy schemes. Many analysts saw him as the better SC corner over Smith, who Miami selected in the second round last night."
Tyler Forness – Vikings Wire: Darius Rush, CB, South Carolina
"Darius Rush is my favorite defender in the draft class and a member of the All-Forno team. A freaky athlete that can make up ground in coverage, Rush needs to work on staying with the receiver early on in the route to become a capable starter."
Saivion Mixson – ATB Network: Darius Rush, CB, South Carolina
"The fact that Darius Rush is here is insane. Rush has what it takes to be a corner for a LONG TIME in this league. His ability to recognize a receiver's routes and a receiver's hips into and out of routes was on display at the Senior Bowl and I thought would be enough for someone to take him in the third. Oh well, someone is going to get a good immediate depth piece that could become more later in his career."
Eric Edholm – NFL.com: Clark Phillips III, CB, Utah
"He's small, sure, but his reaction skills, ball skills, and competitiveness all stand out. Maybe he's only a slot, but less-talented, smaller corners were taken before him."
Devin Jackson – Philadelphia Inquirer: Jalen Cropper, WR, Fresno St
"Cropper is more quick than fast, using varied route tempo with natural hands to attack the ball over the middle of the field while having the versatility to be used all over the field, creating chunk yardage plays on pop passes and jet sweeps. I believe he can be a high-end WR3 in an offense with how savvy he is exploring zone coverage."
"This time last year, if you would've tried to tell anyone that Kelee Ringo would be a Day 3 pick in the 2023 NFL draft, they would've assumed he suffered a catastrophic injury or (had) done something terrible off the field. But neither of those things happened and yet, Ringo remains.
The 20-year-old CB from Georgia started for two years on one of the best defenses in college football history. He even ran in the 4.3s at the Combine. But there were concerns about his lateral agility and ability to consistently mirror quicker receivers. Some even predicted that he would move to safety.
These concerns were well-founded when it came to Ringo as a first-round prospect. But on Day 3, even if he does have to move to safety, his physical tools are simply too enticing to pass up."
Ian Cummings – Pro Football Network: Isaiah McGuire, Edge, Missouri
"My favorite remaining prospect on Day 3 is Missouri EDGE Isaiah McGuire. He's 6'4", 270 pounds, with near-34" arms. High-end explosiveness off the snap and elite power capacity, but also has underrated bend for his size, and a working pass-rush arsenal around the apex. Stacks a high motor in both phases on top of it all. He's my 40th overall prospect."
Aaron Freeman – Locked On Falcons: Isaiah McGuire, Edge, Missouri
"We have seen recent years produce capable pass-rushers on the third day of the draft including Maxx Crosby, Josh Sweat, Carl Lawson, and Matt Judon. If there was somebody in this year's class that I would bet on that could turn into that type of pro, McGuire would be my pick. He possesses the size, power, and a well-developed array of moves and his dominant tape against first-round Georgia tackle Broderick Jones is more than enough to sell you on his upside."
Cory Kinnan – Browns Wire: Tyler Scott, WR, Cincinnati
"Scott slipping to day three is criminal. One of the more explosive receivers in the class, Scott has an underrated ability to throttle down seamlessly and create blind spots. Not just a speed guy, Scott will make the NFL pay."
Brian Maafi – ATB Network: Adetomiwa Adebawore, DL, Northwestern
"Day three is typically about two different type of players, either a guy with traits and upside you take a shot on, or someone who has a decent floor, but maybe not much upside but can contribute in a specific role. Adebawore is the former. He has the highest ceiling of all the players left in my opinion and is a player I think would be worth the shot."
Daniel Olinger – The Draft Network: Christopher Smith II, S, Georgia
"Watching Jalen Carter's film the last two days, Smith pops immediately too on Georgia's tape. He's a maniac who loves nothing more than getting a 20-yard running start before blowing someone up in the backfield. I know safety isn't a premium position, but Smith was a starter on the national champion team's defense for a reason. He can definitely work his way to being a starter at the next level."
"An NCAA record-setting heptathlete on the track, Iosivas should be appealing for teams looking to add developmental speed on Day 3. He played in the Ivy League and skipped spring practice every season to run track, but he flashes legit ability at all three levels of the field on tape."
Honorable Mentions:
There are many others that deserve mention as favorite players left on day three. Here are a few others that weren't mentioned.
Jay Ward, S, LSU
Jay Ward is a versatile piece for any secondary. He can play as either a nickel or as a deep safety. He'll be equally good at either and will be able to carve out a role as a third or fourth safety for a team. I believe he can be a budget version of Quan Martin, who the Commanders drafted at pick 47.
Nick Herbig, Edge, Wisconsin
Nick Herbig is a very intriguing player. There is not a consensus on where he will play at the next level. Some think he's best as an edge rusher, others as an off-ball linebacker due to his size limitations. Either way, Herbig is a round 3 caliber player who fell. His skill set as a pass rusher is what is most enticing for me.
Daniel Scott, S, Cal
Daniel Scott is one of my favorite day-three safeties. He impressed me at the Senior Bowl where I thought he was one of the top safeties there. On his physicality there, Scott noted "We got full pads on… obviously got a little bit of jitters so you want to play a little faster, compete a little bit, but I just wanted to show, you know just cause I'm not six-five… and 200 something pounds I can still bang with people, still cover, show my versatility." Overall, I think he will be a good value for whoever selects him.
Luke Wypler, iOL, Ohio State
Luke Wypler is one of my favorite centers in the draft. In fact, I like him more than some interior linemen draft on day two. He has very good movement ability and should have enough anchor to hold up at the next level. I believe someone is getting a starting caliber player on day three, given he goes into the right scheme.
Bryce Baringer, P, Michigan St
Bryce Baringer is the top punter in the draft this year, and whoever drafts him will get immediate improvement at that position (and won't spend a 3rd rounder on it… 49ers). Baringer boomed punts for the Spartans this past season but has been working to improve his hangtime. Baringer talked about the switch from college to the NFL where there aren't three or four guys that release on the snap, stressing the need for added hangtime, saying "If they can't return it, I did my job".