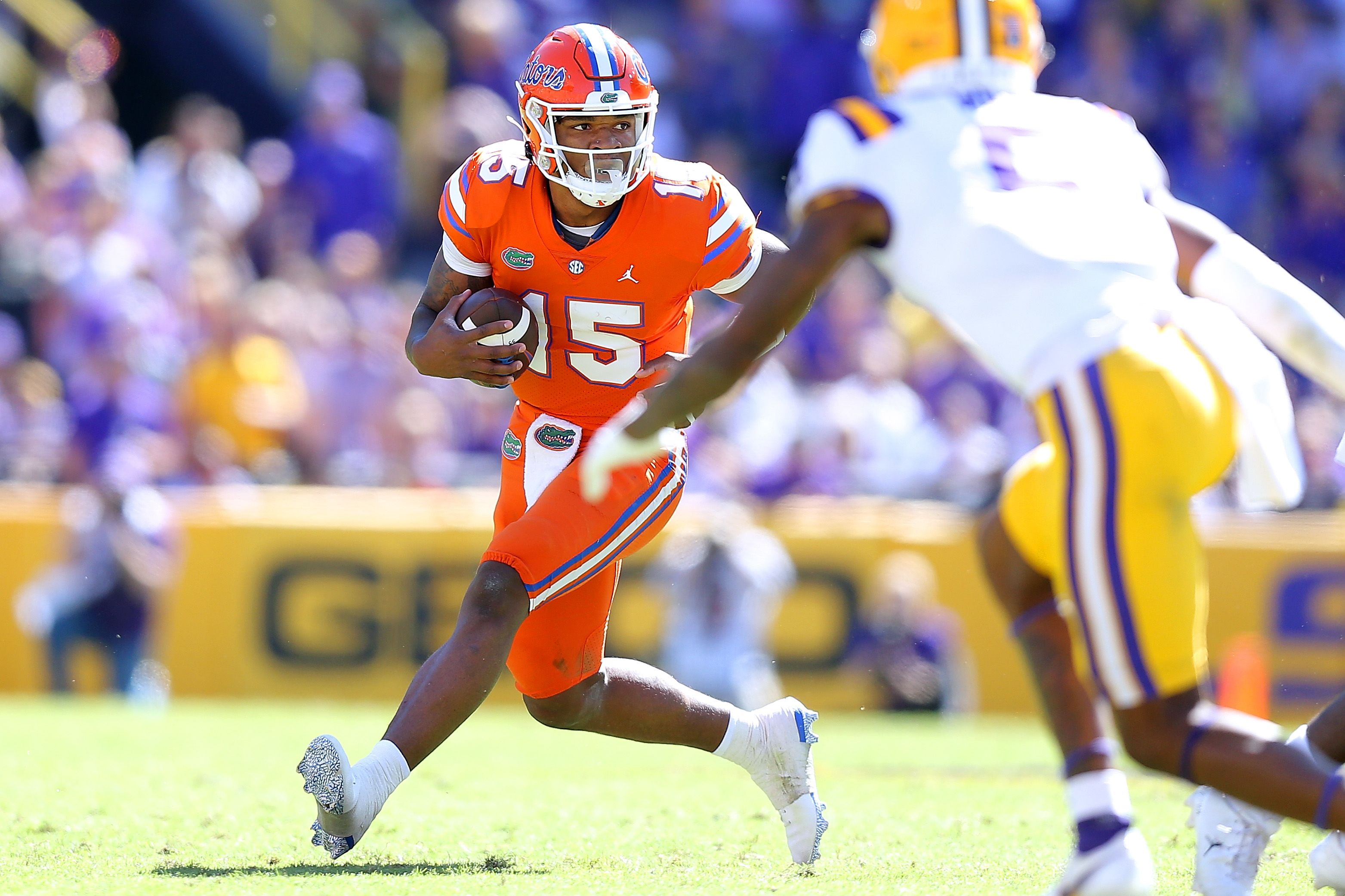 Alright, folks, it's time, and I am just so confused by the first round of this draft. None of it makes sense, it doesn't feel right, and I have no clue what is going on. So with that in mind, let's get into this 2023 NFL mock draft.
2023 NFL Mock Draft: The Top 10
Pick 1: Bears, Jalen Carter DL
We kick off this 2023 NFL mock draft with Jalen Carter. Firstly, I think that Carter is the pick here. Not because he is the best player, but because he fits best with head coach Matt Eberflus. Don't get me wrong, Carter is a freak. However, I think there are better players in the NFL draft. Carter with the Bears just feels right in this mock draft.
Pick 2: Texans, Bryce Young QB
Realistically, this is the guy for Houston. Bryce Young is the future for Demeco Ryans and the Texans. Young is a creative, intelligent, and accurate quarterback. He would be perfect for the Shanahan system, now that Ryans has hired an offensive coordinator who (presumably) runs that system.
Pick 3: Cardinals, Will Anderson EDGE
Will Anderson is the best player in this class. Point blank, period. New head coach Jonathan Gannon loves to rush the passer with speed, which is right up Anderson's ally.
Pick 4: Colts, C.J. Stroud QB
Here is where things start to get weird. I genuinely believe any of C.J. Stroud, Will Levis, or Anthony Richardson could be headed to Indianapolis. I think it's going to be Stroud, but man, it's a toss up.
Pick 5: Seahawks, Christian Gonzalez CB
Firstly, at the year's end, Pete Carroll said this about his defense: "It's killing me." So it only feels right he takes a corner early in the draft. This corner class is loaded, and Christian Gonzalez is the best of the bunch. With great length and athleticism, he and Tariq Woolen would be a deadly combo.
Pick 6: Lions, Devon Witherspoon CB
The Lions desperately need cornerback help. They can add a bonafide top-level corner in Devon Witherspoon. Witherspoon has crazy instincts and plays the ball better than most corners. He is an excellent fit in Detroit.
Pick 7: Raiders, Will Levis QB
Listen, I am not the biggest fan of Will Levis, but he just makes more sense here than Anthony Richardson. Levis is very rough around the edges. He has excellent traits; however, he isn't very refined. Levis' career is going to be an interesting one.
Pick 8: Falcons, Tyree Wilson EDGE
Now, Tyree Wilson is a freak. His whole draft stock is going to be decided at the combine. He is strong, has prototypical size, and is super versatile. He is an excellent fit for the Falcons, who desperately need to rebuild their defensive line.
Pick 9: Panthers, Anthony Richardson QB
Firstly, Anthony Richardson is really good. Coaching is going to be really important for his development. Carolina feels like the perfect place for him. Head coach Frank Reich can unlock the huge potential of Anthony Richardson.
Pick 10: Eagles, Bijan Robinson RB
Surprisingly, I don't know what to do with Bijan Robinson in this 2023 NFL mock draft. He is a weapon, but where is he going to get drafted? I have no clue. I know he will go in the first round, but he could go anywhere from 10-31. He makes no sense. Miles Sanders is a free agent, so the Eagles replace him with a better player.
2023 NFL Mock Draft: Picks 11-20
Pick 11: Titans, Peter Skoronski OL
Peter Skoronski will be the first offensive lineman off the board, but where will he play? He can try to play tackle, where he has good tape, but does he have the length to play there? He can play guard, but he feels better suited for tackle.
Pick 12: Texans, Lukas Van Ness EDGE
Realistically, with a defensive head coach, the Texans will go defense here. I think wide receiver is the bigger need, but Van Ness isn't a bad pick. Firstly, he has a lot of strength. Secondly, his burst and bend are crazy for his size. Lastly, he has sky-high potential.
Pick 13: Jets, Paris Johnson Jr. OT
New York has a Mekhi Becton problem. Robert Salah has to make a choice, run with him or draft another tackle. I am taking the easy way out in this mock draft and drafting a guy who can play inside and out. Paris Johnson Jr. is a beast, but like Peter Skoronski, he can play guard and tackle.
Pick 14: Patriots, Quinton Johnston WR
Bill Belichick is a sicko. He loves fast downfield wide receivers, but only allows them to run curls and jet sweeps. Mac Jones desperately needs a weapon, and Quinton Johnston is just that. Fast, explosive, and has good hands — something I'm sure Mac Jones would welcome in New England.
Pick 15: Packers, Myles Murphy EDGE
We all know this won't be a wide receiver. However, it will be a freak in Myles Murphy. Murphy is 6'5, 275lbs with crazy speed and burst. However, with how this EDGE class stacks up, I have no clue how far he falls. The Packers just felt like the right place for him.
Pick 16: Commanders, Joey Porter Jr. CB
I don't think Porter is the best cornerback available (I feel like I have said this a lot). I do think he fits the best in Washington. Porter has an impressive combo of height, weight, and speed. He has also improved technically every year he's played.
Pick 17: Steelers, Broderick Jones OT
Pittsburg needs offensive line help, and a lot of it. Luckily, Broderick Jones is a lot of human. Jones is a people mover who will help Najee Harris and Kenny Pickett stay upright next season. He would make for an instant starter next year for Pittsburgh.
Pick 18: Lions, Bryan Bresee DL
Many things are going on in Bryan Bresee's life. Hopefully, the former number 1 recruit in the nation can return to that level. I think Bresee's versatility will be a huge asset for him. He can play 4i, 3T, or nose tackle on pass downs. The superb athlete has picked up a few severe injuries over the past three years, which is a concern.
Pick 19: Buccaneers, Cam Smith CB
Cam Smith is my CB3 in this class and feels like a steal at 19. The Buccaneers might be blowing it all up. If so, you can't go wrong with a blue chip corner. A physical and quick cornerback with fluid feet and hips, Cam Smith makes any unit better.
Pick 20: Seahawks, Keion White EDGE
White is a freak off the edge, making him a good fit with Pete Carroll. 6'4 ¾" and 280 pounds with 33 ⅝-inch arms and blazing speed off the edge. Much like their earlier round one pick, Pete Carroll wants a great defense again.
2023 NFL Draft: Picks 21-32
Pick 21: Chargers, Zay Flowers WR
GET JUSTIN HERBERT A PLAYMAKER, PLEASE! That's really it. Zay Flowers will continue to shoot up draft boards as the cycle continues. He showed out in his one day at the Shrine Bowl, and the buzz was that the Chargers fell in love with him there.
Pick 22: Ravens, Jaxson Smith-Njigba WR
A little run on wide receivers here. The Ravens need to find Lamar Jackson a wide receiver 1 or 2. Honestly, they just need wide receivers. Jaxson Smith-Njigba was the best wide receiver in college football in 2021. With some injuries and the emergence of Marvin Harrison Jr., Smith-Njigba fell to the wayside. Hopefully, he can get back on track in the NFL.
Pick 23: Vikings, Brian Branch S
It is no secret that the Vikings' secondary was bad. Brian Branch is one of the best athletes in this draft, and new defensive coordinator Brian Flores loves athletes in the secondary.
Pick 24: Jaguars, Kelee Ringo CB
The Jaguars need corner help. Luckily for them, this corner class is absolutely loaded. Kelee Ringo is a super raw corner and is going to need some time. He will be great paired with Tyson Campbell.
Pick 25: Giants, Jordan Addison WR
The Giants have been looking for a game-changing wide receiver. They finally get one in USC's Jordan Addison. A reliable target throughout his college career, Addison would be an instant impact player in New York.
Pick 26: Cowboys, Jalin Hyatt WR
Jalin Hyatt is a Jerry Jones pick, no questions asked. He has next-level straight-line speed and is good enough at everything else. The majority of his production came on go routes at Tennessee.
Pick 27: Bills, O'Cyrus Torrence IOL
The first true interior offensive lineman off the board, O'Cyrus Torrence is a big man. I think he drops down from his Florida playing weight to get more mobile for the next level. The Bills need to work on their run game, and a blue-chip guard is a perfect place to start.
Pick 28: Bengals, Michael Mayer TE
It feels like we have been talking about Michael Mayer as the next big thing for five years, but now the time has come for him to leave South Bend and head to the NFL. There is no good offensive line value here for Cincinnati, so why not add a great blocking and receiving tight end.
Pick 29: Saints, Nolan Smith EDGE
Nolan Smith is electric. A great athlete, but he doesn't have a great pass-rush arsenal. He falls here to 29, making the Saints' pass rush even more deadly. Smith is going to test really will at the combine, which could lead to him climbing draft boards.
Pick 30: Eagles, Emmanuel Forbes CB
After the Super Bowl, it feels like secondary will be on the Eagles' minds. Emmanuel Forbes has been shooting up draft boards of late, and now makes it into the first round with Philly.
Pick 31: Chiefs, Dawand Jones OT
Dawand Jones is a mountain of a human. Nicknamed "Big Thanos" by teammates, Jones is a certified people mover. The Chiefs' two tackles are free agents, and everyone knows there is never enough money to go around after you win a Super Bowl. This solves a potential tackle problem.
With that, this 2023 NFL mock draft comes to an end. We only have 31 picks this year (thanks, Miami), so one less player will be getting first-round money. This is just the first iteration of this year's mock draft, and a lot will change post-combine.