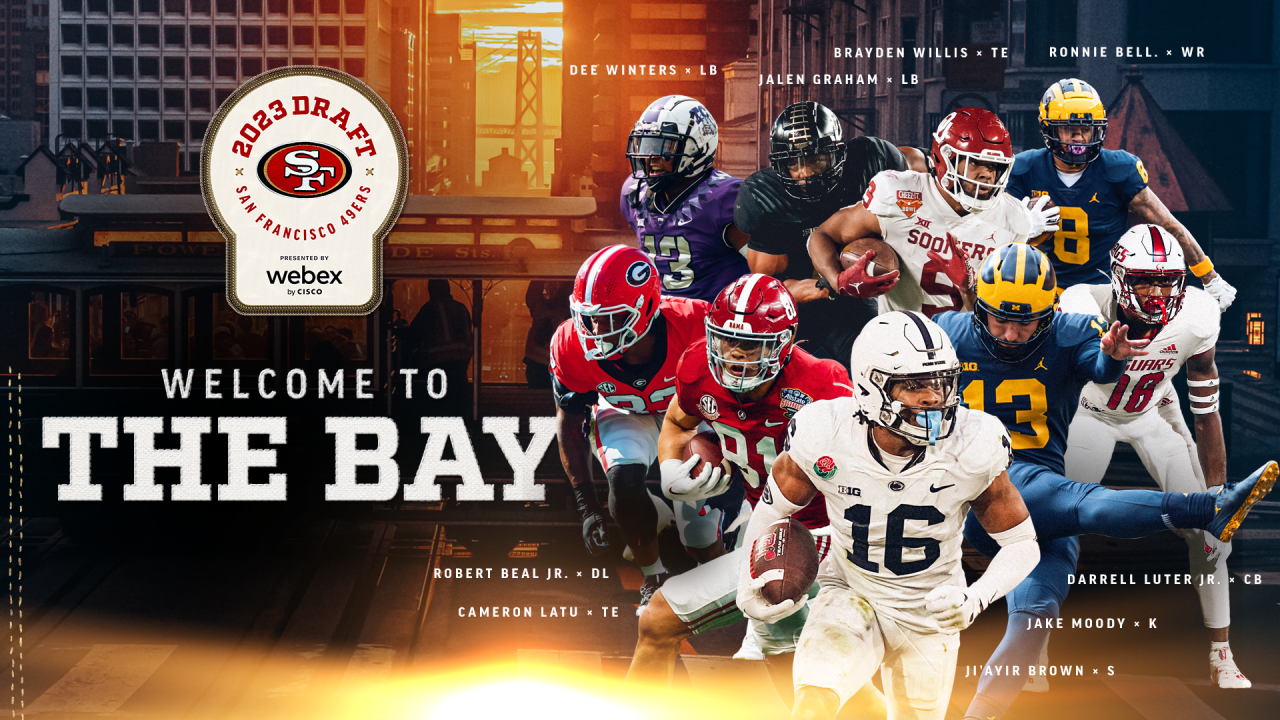 As the dust settles on the 2023 NFL draft, I am left scratching my head. The 49ers started their draft late in the third round at pick #87 with a glaring need for the team was offensive line and secondary help after losing Mike McGlinchey, Daniel Brunskill, Jimmie Ward, and Emmanuel Moseley. Instead, the 49ers traded up in the third round with the Vikings to draft safety Ji'ayir Brown from Penn State.
After that, the draft was a bit… odd, for lack of a better word. With pick #99 the 49ers selected kicker Jake Moody from Michigan. Taking a kicker was not the craziest thing for the 49ers due to Robbie Gould testing free agency for the upcoming season. At the end of the draft, the 49ers did not select an offensive lineman, which has been a need since the 2022 season ended.
Below is a list of the new 49ers and how they can contribute in 2023.
Pick 87: Ji'ayir Brown S | Penn State
Ji'ayir Brown is an explosive safety ready to make a play. He is great at run defense, racking up 153 total tackles in his college career with nine of them being for loss. His pass defense is also impressive where he totaled 10 interceptions and nine pass deflections. His discipline might get him in trouble due to over pursuit or misreading a play. Luckily, he will be playing in one of the best defenses in the NFL, which will be able to cover up his mistakes.
I look forward to him contributing a lot in his first year and possibly starting early in the season due to Jimmie Ward and Tarvarius Moore signing with new teams.
Pick 99: Jake Moody K | Michigan
Jake Moody was the best place kicker in the 2023 NFL draft. He made 148 of his 148 extra point attempts at Michigan and made 52 of his 60 field goals in his last two seasons. Most of those field goals came within 40 yards, where he was very consistent. His downside is his leg strength, where he is a bit questionable once he crosses the 40-yard threshold.
It will be an interesting spring and summer where he and veteran Zane Gonzalez battle to fill the huge void Robbie Gould left.
Pick 101: Cameron Latu TE | Alabama
Cameron Latu will not hop off the page with his athleticism or power, but has a way of shaking the secondary and pinpointing the ball. He is not great at run blocking off the line, but does excel at next-level blocking.
I can see the 49ers using him when needing a short pass or help with blocking downfield on wide receiver screens. He will more than likely start the season as a 3rd string tight end and not see a large capacity of snaps.
Pick 155: Darrell Luter Jr. CB | South Alabama
Darrell Luter Jr. is a physical corner with long arms. His stats are not as impressive as a first-round talent, but he makes it up with his physicality and long arms. He is great at press coverage, but may have an issue with zone coverage. He will need to improve his coverage on the long ball, but his long arms and ability to read a wide receiver's eyes should help him quickly adapt in the NFL.
I do not expect him to start Week 1, but with the luck the 49ers have with the health of their corners he could be thrown in at any time.
Pick 173: Robert Beal Jr. DE | Georgia
Robert Beal Jr. is a lengthy athletic edge rusher who found himself being overshadowed by his star-studded teammates at Georgia. He is a raw talent that needs to be coached to his true ability. He is inconsistent with his pass rush moves, but when they work he looks like an All-Star.
I think after a season or two with one of the league's top defensive line coaches, Kris Kocurek, we could see Robert Beal Jr. have a nice career in the NFL.
Pick 216: Dee Winters ILB | TCU
Dee Winters is a bit undersized in comparison to the average NFL linebacker, but he is not afraid to stick his nose in a play. He is great at shooting the gaps and laying a big hit on a ball carrier. He will need to work on his pass defense and ability to read an offense. I expect him to see some snaps during the season, especially on obvious run downs.
Pick 247: Brayden Willis TE | Oklahoma
Brayden Willis has strong hands and a great ability to pick up yards after catch. He likes to get to the middle of the field, and is not afraid to make a contested catch. He will be able to provide some help in the 49ers pass offense, but needs to improve his run blocking. Maybe a year under George Kittle's wing could help Willis' run blocking ability.
Pick 253: Ronnie Bell WR | Michigan
Ronnie Bell is a strong-handed receiver who's not afraid to block in the run game. Bell had ACL surgery in 2021, but bounced back with an impressive season. Speed and quickness are a bit lacking, but he makes it up with strong hands and well-timed leaps. I would imagine he would start the season on special teams and occasionally get a few snaps on offense.
Pick 255: Jalen Graham OLB | Purdue
Jalen Graham is an energetic line backer who plays with no fear. He plays very physically, but can also drop back in coverage. He is a bit undersized and lacks the ability to read blocking assignments at times. Jalen will be in a backup role and play on special teams.
If I had to give this 49ers draft a grade, I would give it a "C". Some holes will be filled, and some are still a question mark.